Genuine Mercedes-Benz Replacement Battery
Starting at
$295.95
Genuine Mercedes-Benz Batteries are built to meet the demands of the advanced electronics in your Mercedes-Benz and deliver years of trouble-free driving. The best way to ensure that you're getting the most from your battery is to have it tested, and if necessary, replaced by qualified Mercedes-Benz technicians.
Includes:
Genuine Mercedes-Benz Replacement Battery
Clean Battery Terminals
Complete Charging Systems Inspection
Complimentary Battery Inspection
Valued at
$99.95
Let our Mercedes-Benz Certified Technicians inspect your vehicle's battery


Includes:
Complete Charging System Inspection
How can you tell if your car battery needs to be serviced?
You should have your battery inspected each time you bring your car in for auto service to make sure it's working properly, especially if your battery is more than three years old. And if you notice any of the following warning signs, it's important to have your battery checked out right away.
Difficulty Starting
The battery gives your car the initial power it needs to start. So if your car won't start or it takes longer than usual to start, then it is likely time to service or replace your battery.
Dim Lights
Your car's battery provides power to its electrical components like lights, radio and more. If you notice that your dashboard lights are dim when you start your car, or the lights dim when you turn on systems like the air conditioning or the radio, then your battery needs to be checked.
Old Age
Most batteries last about five years. After about three years, it's a good idea to start having your battery check each time you bring your car in for service. And once it reaches five years old, it might be time to talk to your technician about replacing your battery.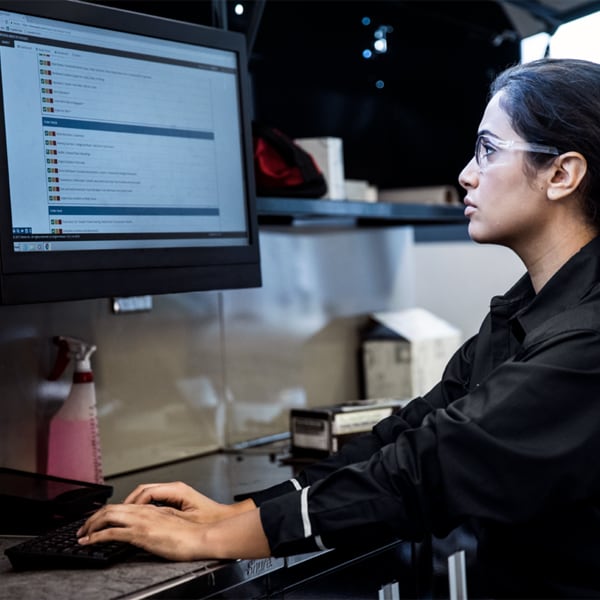 Leave battery care to the experts.
As holders of the patent on the vehicle battery for over 100 years, we've continually refined and updated its capabilities to meet the ever-increasing demands of the sophisticated electronics in your Mercedes-Benz. As a result, battery care and maintenance have become more sophisticated as well. Qualified Mercedes-Benz technicians have the tools and training to give your battery a clean bill of health, or replace it using the expertise that you've grown accustomed to.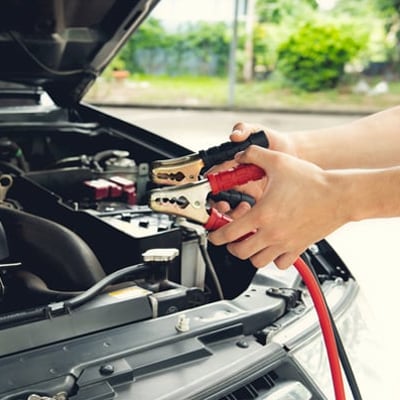 We have battery care down to a science.
Climate, driving style, your vehicle's downtime, even the length of your trips can determine the life expectancy of your battery. Mercedes-Benz has developed a predictive analytics model that takes these factors and more into consideration. So, you get a proven, reliable answer on its power output and the life it has left. That could save you from being stranded with a dead battery - and the expense and inconvenience that go along with it.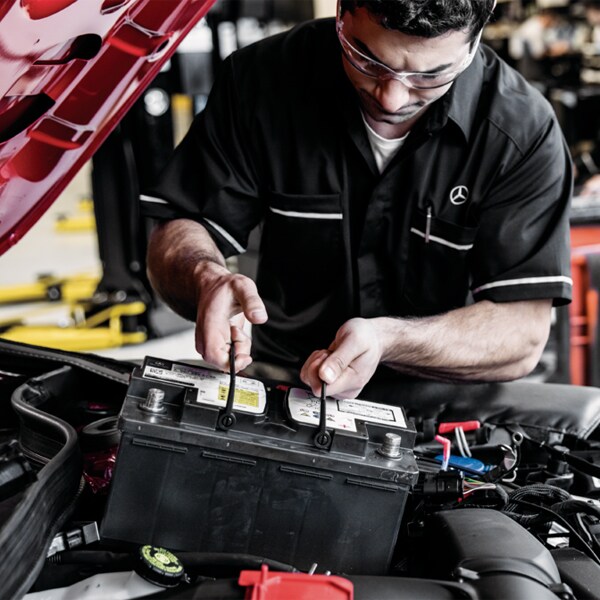 Save time and money with a Genuine Mercedes-Benz Battery.
Virtually any battery will start your vehicle. But if it doesn't have the proper specifications, it's only a matter of time before you'll be stranded, and have to go through the battery buying process again. Genuine Mercedes-Benz Batteries are designed specifically for Mercedes-Benz vehicles. They have the current needed to keep the advanced systems in your vehicle working optimally, and the durability that helps you drive with peace of mind. Year after year.
Genuine Mercedes-Benz Batteries deliver certified power and reliability.
After several rigorous tests by an independent testing laboratory, Genuine Mercedes-Benz batteries were proven to exceed car battery standards.*
Keep Your Vehicle Running with Battery Services from Knauz Continental Autos
When your car is ready for battery service or replacement, be sure to make an appointment at our Lake Bluff, IL Mercedes-Benz service center. We will gladly take care of all your battery and other auto maintenance needs to keep your car running smoothly. Feel free to contact us with any questions you might have
*Batterieingenieure GmbH, an independent testing Laboratory, has subjected the Mercedes-Benz genuine starter battery A 001 982 82 08 to a range of tests, comparing it with five similar competitive products from Germany and the US. Tests included Capacity tests, Cold Crank tests, Cycle Tests, and Charge Acceptance tests.
Service Department Hours
Monday - Thursday

7:30AM - 6:30PM

Friday

7:30AM - 6:00PM

Saturday

8:00AM - 2:00PM
See All Department Hours
SALE HOURS
Monday

10:00AM- 7:00PM

Tuesday

10:00AM- 7:00PM

Wednesday

10:00AM- 7:00PM

Thursday

10:00AM- 7:00PM

Friday

10:00AM- 6:00PM

Saturday

9:00AM - 5:00PM
PARTS DEPR. HOURS
Monday

8:00AM - 6:00PM

Tuesday

8:00AM - 6:00PM

Wednesday

8:00AM - 6:00PM

Thursday

8:00AM - 6:00PM

Friday

8:00AM - 6:00PM

Saturday

8:00AM - 12:00PM
SERVICE DEPT. HOURS
Monday

7:30AM - 6:30PM

Tuesday

7:30AM - 6:30PM

Wednesday

7:30AM - 6:30PM

Thursday

7:30AM - 6:30PM

Friday

7:30AM - 6:00PM

Saturday

8:00AM - 2:00PM