FOUR WHEEL ALIGNMENT
Starting at
$184.95
It's important to maintain a factory alignment as it will make sure your Mercedes-Benz handles as intended, quiet, smooth but incredibly capably off-road. We recommend you have an alignment performed once a year or whenever you mount a set of new tires. Our technicians are Mercedes-Benz Certified to make assessments, diagnose and fix any issues you could have
Includes:
Mounting the vehicle to a state-of-the-art four-wheel alignment device
Determining the exact position and angle of each wheel with respect to the three angles, camber, toe and caster
Making the necessary adjustments to each individual wheel and suspension corner
Complimentary multi-point inspection
Complimentary tire tread analysis
Complimentary vehicle wash 
COMPLIMENTARY ALIGNMENT INSPECTION
Complimentary
Let one of our Mercedes-Benz certified technicians inspect your vehicle's alignment
Includes:
Visual inspection of steering components 
Complimentary tire tread analysis
Schedule Mercedes-Benz Sprinter Van Alignment Service in Lake Bluff, IL
Proper alignment for your luxury Mercedes-Benz commercial model's wheels and tires is crucial to the overall condition maintenance and general ride quality you experience on daily trips around Waukegan and Gurnee. When pot holes, rough roads, and unpredictable surfaces take a toll on this alignment and create associated issues such as inconsistent handling and a noisier ride, a trip to our service center here at Knauz Continental Autos becomes warranted.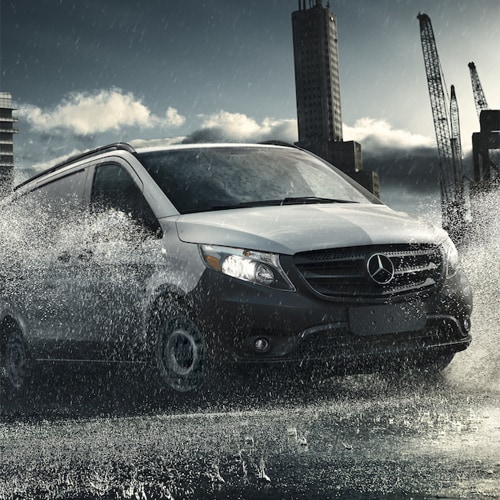 Respective caster, camber and toe angles need to remain in proper alignment to ensure poor alignment problems don't impact the overall outlook for regular Mercedes-Benz Sprinter Van travel through Deerfield and Buffalo Grove. These three angles must remain in exact accordance with original equipment manufacturer recommendations for optimal performance, ride quality and the general well-being of your sophisticated automotive investment.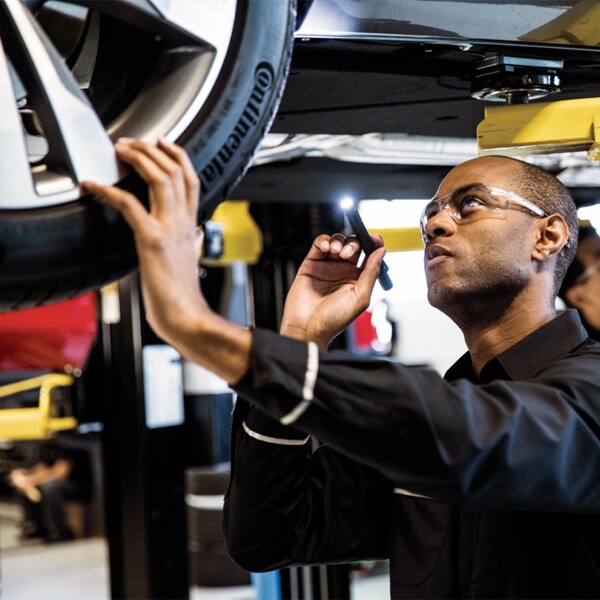 To maintain this system's functionality and condition, our factory-trained service technicians use diagnostics and correct angles accordingly. We will oversee this process, outlined below, from start to finish. Check in annually for an alignment inspection when you stop over for other respective Mercedes-Benz model maintenance and repair requirements.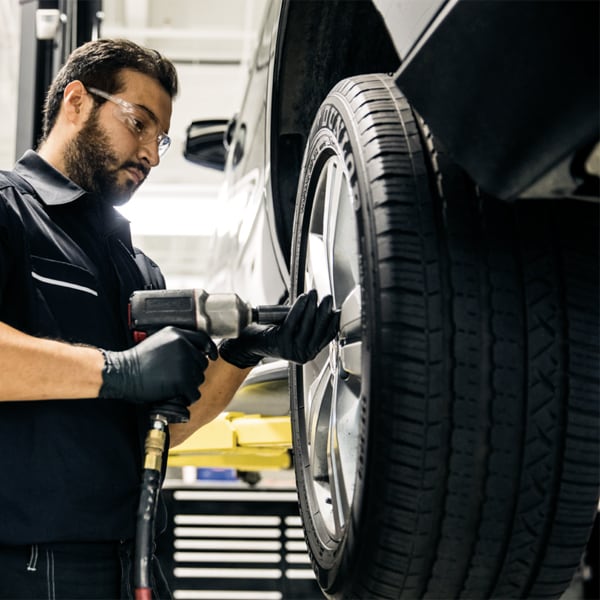 The Process of Wheel Alignment for Mercedes-Benz Sprinter Vans in Lake Bluff
Mount Mercedes-Benz Sprinter Van for alignment configuration
Assess current camber, toe and caster angles compared to recommended manufacturer measurements
Adjust three angles according to observed differences
Conduct a multi-point inspection to check on remainder of vehicle's condition
Check on tire tread and follow up with rotation accordingly
Provide a complimentary wash prior to appointment's end
Conclude with road test to confirm pristine ride quality
Contact us today to set up a Mercedes-Benz Sprinter Van alignment service appointment and follow up for additional insight on what you can expect!
Service Department Hours
Monday - Thursday

7:30AM - 6:30PM

Friday

7:30AM - 6:00PM

Saturday

8:00AM - 2:00PM
See All Department Hours
SALE HOURS
Monday

10:00AM- 7:00PM

Tuesday

10:00AM- 7:00PM

Wednesday

10:00AM- 7:00PM

Thursday

10:00AM- 7:00PM

Friday

10:00AM- 6:00PM

Saturday

Closed
PARTS DEPR. HOURS
Monday

8:00AM - 6:00PM

Tuesday

8:00AM - 6:00PM

Wednesday

8:00AM - 6:00PM

Thursday

8:00AM - 6:00PM

Friday

8:00AM - 6:00PM

Saturday

8:00AM - 12:00PM
SERVICE DEPT. HOURS
Monday

7:30AM - 6:30PM

Tuesday

7:30AM - 6:30PM

Wednesday

7:30AM - 6:30PM

Thursday

7:30AM - 6:30PM

Friday

7:30AM - 6:00PM

Saturday

8:00AM - 2:00PM