You've researched it, you've test driven it, and now, you've decided the Mercedes-Benz Van is the work vehicle for your fleet. The Mercedes-Benz Van Fleet Program delivers the value that drives fleet selection decisions.If the durability, efficiency and low cost of ownership of a single Mercedes-Benz Van can help drive your business forward, just imagine what a fleet can do for you. That can become a reality through the Mercedes-Benz Vans Fleet Program. Our Mercedes-Benz Fleet Team will examine your specific criteria, and offer the van with the ideal body style, interior configuration and load capacity to meet your commercial vehicle requirements. To learn more, contact us and we will work with you to provide a solution that best suites your needs.

Van owners can achieve up to 90% fewer emissions than an equivalent gasoline-powered vehicle thanks to our Super Ultra-Low Emission Vehicle (SULEV) engine-making the Mercedes-Benz Van the first certified SULEV-diesel engine in the world.*
Upfitters & Body Builders


How will you customize your Mercedes-Benz Van?
Whether for business or for pleasure, the Mercedes-Benz Van is designed with your future in mind. When you're ready to build your business, the Mercedes-Benz  Van is the ultimate foundation. With nearly vertical walls, tall interior standing heights, abundant space and advanced technology, Cargo and Crew Vans are easily transformed by a Preferred Upfitter to fit your specific needs (see for yourself). Plus, if you want to think bigger, the Cab Chassis offers the ideal commercial platform for body builders.
The Daimler Vans Upfitter Portal includes technical information and resources necessary to upfit a Mercedes-Benz Mercedes-Benz Van, including: specific model resource charts, 2D drawings, upfitter equipment bulletins, photos and body builder handbooks.
Work with a Mercedes-Benz Van Preferred Upfitter and see how dreams become reality.
Mercedes-Benz works closely with over 80 Mercedes-Benz Vans Preferred Upfitters and Body Builders who are the best in the business. It's time to build the Mercedes-Benz Van that builds your business. Find a top upfit or body-building specialist ready to customize your Mercedes-Benz Van for future success.
Trade Service Vehicles
Refrigeration
RVs
Emergency Vehicles
Food Trucks
Luxury Vans
Custom Conversions
Mobile Offices & Clinics
Paratransit
Service & Repair
Mobile Showrooms & Workshops
Mercedes-Benz Van Warranty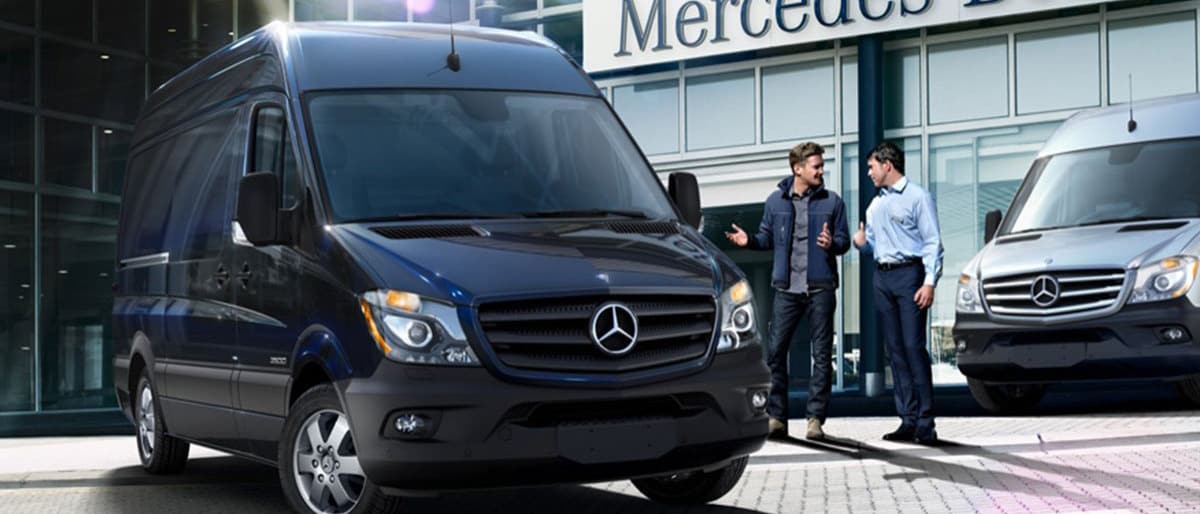 We promised a world-class vehicle. And we intend to provide one.
Your Mercedes-Benz Vans is the benchmark for quality in commercial vehicles. By following a routine maintenance schedule at an authorized Mercedes-Benz service center, you can keep it performing at its peak for years to come. To make sure that you and your vehicle have a productive relationship, we back the Mercedes-Benz Vans with some of the most comprehensive warranties in the business.
5-YEAR / 100,000-MILE DIESEL ENGINE LIMITED WARRANTY
Coverage for turbo diesel engines for five years or 100,000 miles, whichever comes first. Diesel-equipped, heavy-duty vehicles also carry a diesel emission warranty.
5-YEAR / 100,000-MILE LIMITED OUTER-BODY WARRANTY
Protection for the outer, finish-painted, metal panels against corrosion and perforation for five years or 100,000 miles, whichever comes first. All panels are covered for three years regardless of mileage.
3-YEAR / 36,000-MILE BASIC LIMITED WARRANTY
Basic coverage for three years or 36,000 miles, whichever comes first. Excludes normal maintenance and wear items.
We know how damaging vehicle downtime can be to your business. While your Mercedes-Benz warranty is due to expire soon, you can continue to protect one of your most valuable investments with our Extended Limited Warranty (ELW). With various options to choose from, a Mercedes-Benz ELW offers your business no-hassle convenience. But more importantly, you'll enjoy peace of mind knowing it's from Mercedes-Benz.
Mercedes-Benz Vans Extended Limited Warranty
The Mercedes-Benz Van ELW offers several attractive features:
1-year/up to 100,000 miles
2-year/up to 125,000 miles
3-year/up to 150,000 miles
4-year/up to 175,000 miles
No deductibles or cumbersome claims processing
No approvals required prior to repairs
Repairs by factory-trained technicians utilizing high-tech, diagnostic equipment
Repairs completed with Genuine Mercedes-Benz parts
No risk to you; may be cancelled any time prior to the New Vehicle Limited Warranty expiration for a full refund
Download Warranty & Maintenance Brochure for Mercedes-Benz Vans
Metris Extended Limited Warranty
The Mercedes-Benz Van ELW offers several attractive features:
1-year/up to 75,000 miles
2-year/up to 100,000 miles
3-year/up to 125,000 miles
4-year/up to 150,000 miles
No deductibles or cumbersome claims processing
No approvals required prior to repairs
Repairs by factory-trained technicians utilizing high-tech, diagnostic equipment
Repairs completed with Genuine Mercedes-Benz parts
No risk to you; may be cancelled any time prior to the New Vehicle Limited Warranty expiration for a full refund
Download Warranty & Maintenance Brochure for Mercedes-Benz Vans