The Knauz Automotive group has been serving the Chicagoland area since 1934.
Currently being run by the third generation of the family, and we hope to serve you and the community for many generations to come
Below you'll find basic information on future vehicles coming to Knauz Continental Autos. Please feel free to contact one of our Sales Associates for additional information.

The 2022 Mercedes-Benz C-Class Sedan
Sensual purity with a sporty and elegant touch

2022 Mercedes-AMG® SL-Class
A return to roots that defines the future. It's one of our most iconic models, reimagined from its classic soft top to its all-wheel drive foundation.
The original SL was one of the vehicles that cemented the status of Mercedes-Benz. You might think there's nothing left to prove, but its modern descendant insists otherwise: It's been outfitted with the latest intelligent drive and safety features for new levels of confidence. Its exterior makes its SL lineage unmistakable, even as its aerodynamic form and AMG-specific grille suggest a thoroughly modern approach to performance. And a handcrafted AMG 4.0-liter V8 engine pushes it to new limits of power.
The SL's basis is a completely new vehicle architecture. Meticulously developed by Mercedes-AMG, it consists of an aluminum space frame with self-supporting structure. The chassis itself features an intelligent material composition with high aluminum content and new fiber composites. This allows for high comfort, precise driving dynamics, optimal packaging and sporty body proportions. Just like the original SL in 1952, as well as icons like the Gullwing and others since, the 2022 model was first conceptualized on a blank sheet of paper. Not a single component was taken from the preceding SL model or a similar model like the GT, making it a completely unique automobile.
Within the vehicle, fine materials and meticulous workmanship help accentuate the minimalist approach. The completely redesigned interior features a 2+2 seating configuration for the first time since 1989. This makes the SL even more spacious and versatile. And if the extra seating isn't needed, a deflector protects front seat passengers from wind at the back of the neck. As for the seats themselves, the avant-garde design makes them appear lighter and sleeker with fully integrated headrests and ideal ergonomics.
At the center of the space sits the 11.9-inch multimedia touchscreen. Positioned vertically, it flows naturally from the lower section of the instrument panel and can be electrically adjusted to reduce glare when driving with the top down. The driver display and available head-up display round out the digital cockpit where the hardware and software have been extensively enhanced. But throughout the SL, you'll notice a conscious effort to create a seamless blend of analog geometry and digital screens, something the designers refer to as "hyperanalog." The result is an interior that feels true to the tradition of the classic SL Roadster, but reinvented for the modern era.

Key Highlights
Handcrafted AMG 4.0L V8 biturbo engines
577 hp and 590 lb-ft of torque (SL 63)[7]
469 hp and 516 lb-ft of torque (SL 55)[7]
0–60 mph in 3.5 seconds (SL 63)[8]
0–60 mph in 3.8 seconds (SL 55)[8]
AMG SPEEDSHIFT MCT 9-speed transmission
AMG Performance 4MATIC+ all-wheel drive[8]
AMG DYNAMIC SELECT drive modes
AMG RIDE CONTROL suspension with adaptive damping adjustment (SL 55)
AMG ACTIVE RIDE CONTROL suspension with adaptive damping adjustment and active anti-roll stabilization (SL 63)
Active rear-axle steering
Driver Assistance Systems[9]

Design
Mercedes-Benz User Experience (MBUX) with Voice Control multimedia system based on artificial intelligence, with AMG-specific functions
Completely new vehicle architecture developed by Mercedes-AMG
Electric soft top
"Hyperanalog" interior combining classic automotive elements with innovative digital instrumentation
LED High Performance headlamps and tail lamps
Multimedia Package with Augmented Video for Navigation[6]
Available MANUFAKTUR upholstery and paint finishes
Available AMG Exterior Chrome Package, AMG Exterior Carbon Package, AMG Night Package, AMG Night Package II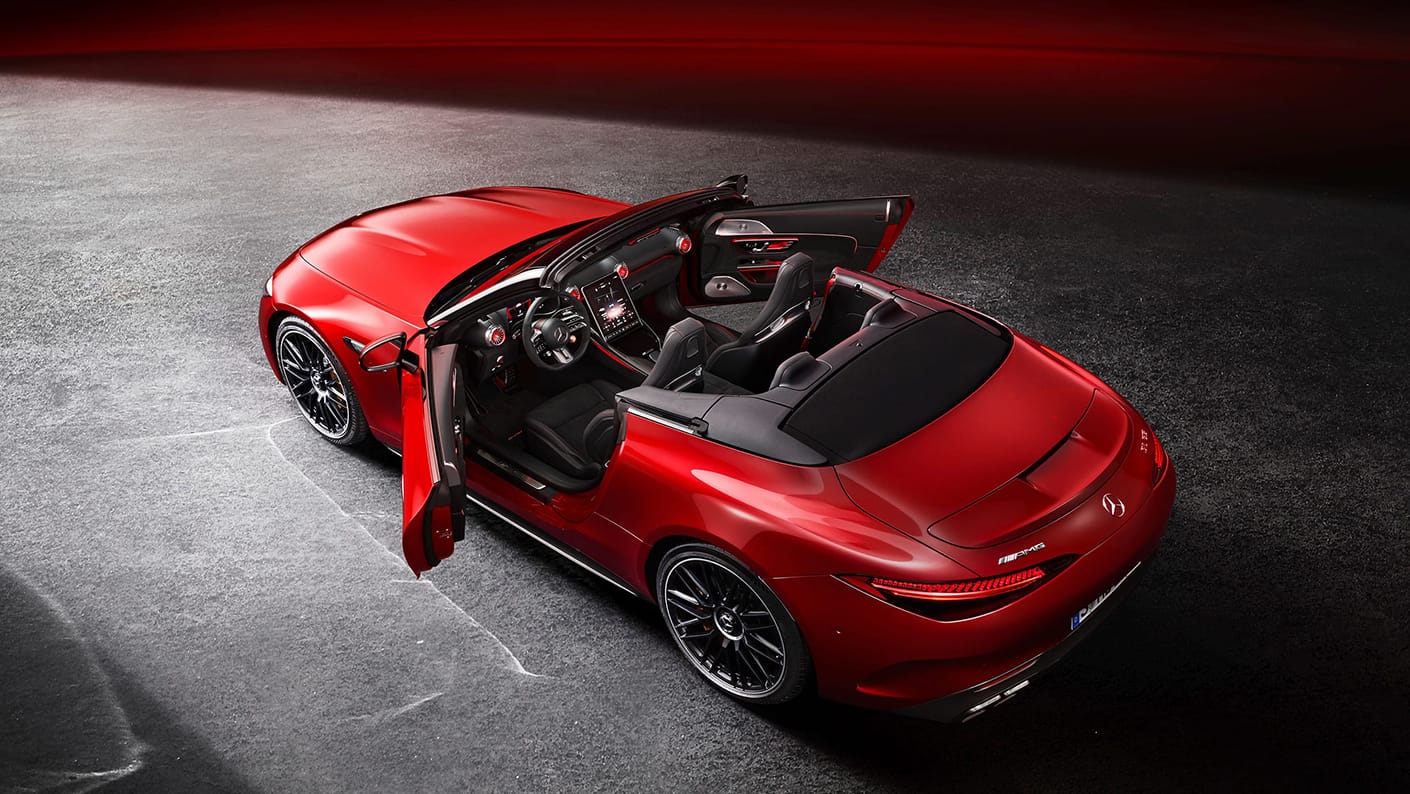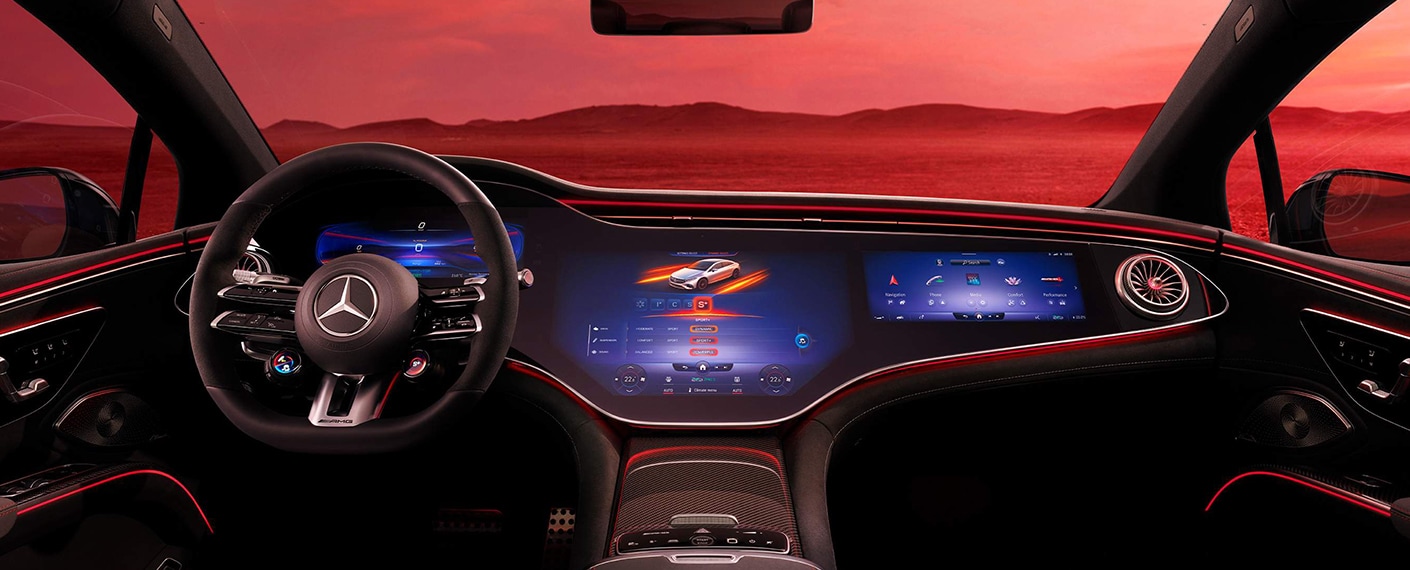 2022 Mercedes-AMG EQS
Finally, sustainability meets raw power. Advancing AMG technology into the future.
Our electric portfolio is set to expand with boundless power in the all-new Mercedes-AMG EQS. True to every AMG before it, this all-electric sedan puts performance in sharp focus, delivering on our brand promise to blaze a dynamic driving experience.
Its powertrain runs on silent electricity, but that doesn't mean we can't make that engine roar. "Authentic" or "Performance," our exclusive AMG SOUND EXPERIENCE, generates the evocative feeling of driving an AMG via premium speakers.
Synchronous motors are situated at both the front and rear axles and have a variable AMG Performance 4MATIC+ all-wheel drive, unleashing tremendous power in all driving conditions. Speaking of which, this sedan dominates with a colossal 649 hp with 700 lb-ft of torque, and can take that even further — briefly boosting power to 751 hp — with the standard AMG DYNAMIC PLUS package in RACE START mode.Disclaimer[5] Disclaimer[6]
Based on Mercedes-EQ architecture, the powerful 400-volt battery with the latest lithium-ion technology is configured specifically for AMG. So let's set the standard for acceleration: This thunderbolt is optimized to perform at 0–60 mph in an estimated 3.4 seconds, with a top speed of 155 mph.Disclaimer[5] Disclaimer[6] The streamlined silhouette brings its drag coefficient down to a phenomenal 0.23, for maximum aerodynamic efficiency. As standard, the Mercedes-AMG EQS gets up to 9 degrees in rear-axle steering to reduce the turning circle of this beast to that of a compact yet providing high-speed stability.                                     
The Mercedes-Benz User Experience (MBUX) Hyperscreen is hyper-intuitive and also comes as standard. Spanning from A-pillar to A-pillar — three screens fused seamlessly into one monstrous display — personalized features, infotainment, comfort and vehicle functions are designed to automatically rise to the surface as needed. Plus, MBUX in the AMG EQS offers a range of additional functions and graphics that emphasize the high-performance character of this sporty model.
Mercedes-EQ owners can enjoy access to the largest integrated network of charging stations across the USA, powered by Mercedes me Charge.Disclaimer[8]  As an added benefit, owners get complimentary 30-minute charging sessions with Electrify America's DC Fast-Charging stations for the first two years. For fast charging at home, plug into the convenience of a ChargePoint Home Flex wallbox. Safe, convenient and cost-effective, this Level 2 wallbox can be purchased from ChargePoint with installation arranged through Qmerit.

Look for the all-new, all-electric Mercedes-AMG EQS in dealerships March 2022.

Technology & Performance
107..8 kWh battery capacity
649 hp/751 hp (without/with AMG DYNAMIC PLUS package)[9]
700 lb-ft/752 lb-ft of torque (without/with AMG DYNAMIC PLUS package) [9]
0–60 mph est. 3.4 seconds[9]
Estimated top speed of 155 mph[6] (with standard AMG DYNAMIC PLUS package)
Rear-axle steering up to 9-degrees
AMG RIDE CONTROL+ Suspension with Adaptive Damping System 
DYNAMIC SELECT including Slippery, Comfort, Sport, Sport+ and Individual driving modes 
AMG high-performance compound brake system with six-piston brake calipers, and single-piston brake calipers at the rear
Driver Assistance Package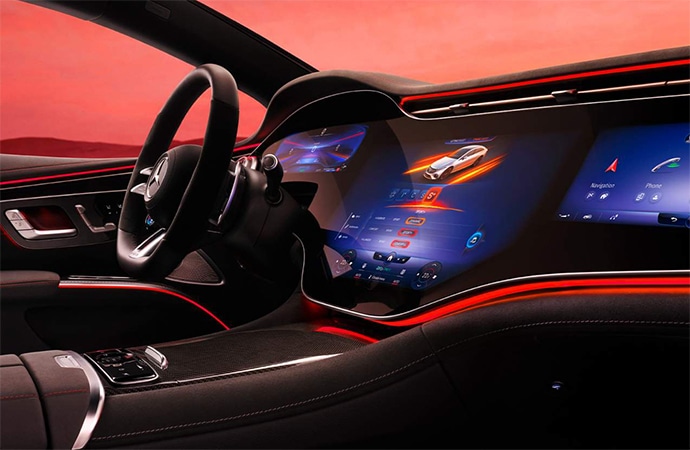 Design
New-generation MBUX Multimedia System with Augmented Reality Navigation system, including Natural Language Understanding and Keyword Activation ("Hey Mercedes")
Standard MBUX Hyperscreen with three displays under a single 56" curved glass surface: 

8 CPU cores, 24 GB RAM and 46.4 GB memory
The largest display ever in a production Mercedes-Benz
Haptic feedback with a total of 12 actuators under the touchscreen surface
Supports 27 languages with Natural Language Understanding (NLU)
Personal home screen with "Zero Layer" principle
MBUX with up to seven profiles can be activated by biometric authentication, voice control and facial recognition 

Over-the-air updates
DIGITAL LIGHT with Lightband
Mercedes me charging capabilities
EQ Public Charging infrastructure
21- or 22-inch AMG aerodynamically optimized alloy wheels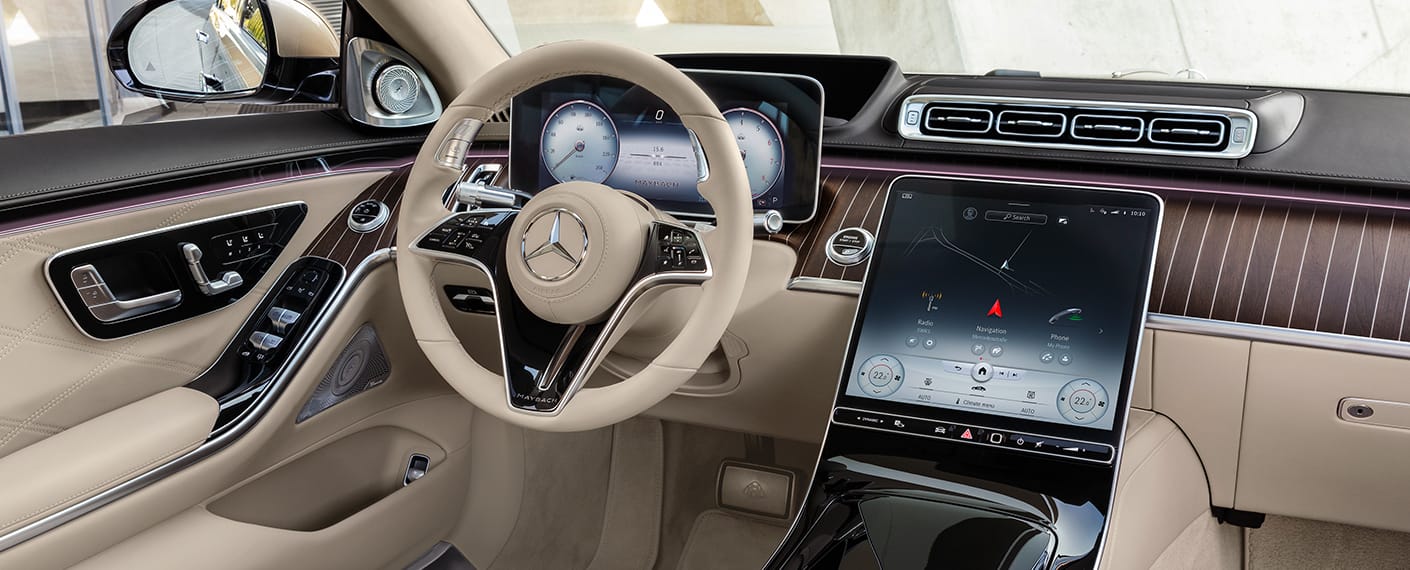 The Mercedes-Maybach S 680
Luxury that sweeps away all expectations. Every detail of the Mercedes-Maybach S 680 Sedan serves to create an atmosphere of grace and comfort.
The Mercedes-Maybach S 680 pushes power, intelligence, and pure attentiveness to levels unseen, until now. With its 6.0L biturbo V12 engine, this new model takes its place as the most powerful among the Mercedes-Maybach lineup. Its 621 horsepower and 738 lb-ft of torque allow it to launch from 0–60 miles per hour at an effortless 4.4 secondsDisclaimer[5], even as driving dynamics make that velocity feel imperceptible. Rear-axle steering allows the S 680 to maneuver with precision, and its new 4MATIC all-wheel drive systemDisclaimer[6] distributes torque to offer the best traction and stability. Its performance features combine to create a sense of grace remarkable in a vehicle so generously proportioned.
Its size, of course, is a measure of the comfort within. An ample cabin accommodates driver and passengers in a space that's meant as much for living as for traveling. Active road noise compensation works like noise-canceling headphones to cocoon the interior from the clatter of the world outside — just one function of the new Burmester® High-End 4D Surround Sound SystemDisclaimer[7]. Electronically powered comfort doors open and close with a simple hand gesture. Hand gestures also control the rear roller sun blind in the panoramic sunroof. Adaptive rear lighting adjusts brightness and color temperature to set the desired atmosphere, from relaxed lounging to focused reading.

Thanks to MBUX Interior Assist, features like these cater to each individual passenger. The system automatically detects for rear passengers, extending headrests automatically, for example. With the MBUX High-End Rear Seat Entertainment System, each passenger can access vehicle functions through individual high-resolution displays. Whether watching a film or connecting to the internet, passengers stay in tune with the world outside, even as they're sheltered within. Refined by now-traditional options like silver-rimmed champagne flutesDisclaimer[8] and refrigerated compartmentDisclaimer[9], the S680 offers plenty of reason to celebrate. 

Key Highlights
6.0L V8 biturbo engine
621 hp and 738 lb-ft of torque
0–60 mph in 4.4 seconds[5]
Top speed of 130 mph (electronically limited)[10]
9G-TRONIC 9-Speed Automatic
4MATIC all-wheel drive[6]
Maybach DYNAMIC SELECT drive mode provides ultimate ride comfort and smooth acceleration
Rear-axle steering
Advanced Driver Assistance Systems[11]

Mercedes-Benz User Experience (MBUX) with Voice Control multimedia system based on artificial intelligence
MBUX Interior Assist
MBUX High-End Rear Seat Entertainment system
Electronically powered Automatic Comfort Doors
Adaptive Rear Lighting
Rear-seat airbags providing advanced safety[12]
Nappa leather finishes, including the headliner, dashboard and instrument panel surrounds
Available two-tone paint finish with 10 possible color combinations
Burmester® High-End 4D Surround Sound System[7]


The First to Bear the Mercedes-EQ Badge
Our newest models are changing the future of Mercedes-Benz, and the future of automobiles everywhere.